What's New?
Latest news & stories about all things Glue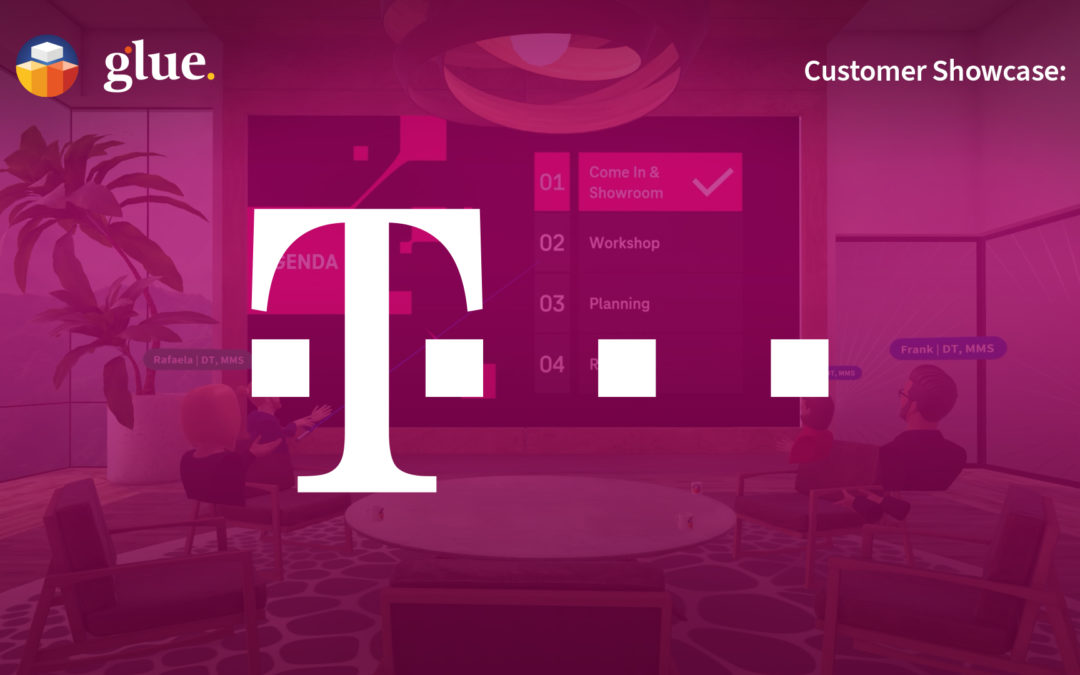 Deutsche Telekom MMS supports large corporations and medium-sized companies in their digital transformation with around 2,100 employees at nine locations. Deutsche Telekom MMS develops end-to-end experiences, which goes beyond digital with the use of virtual reality...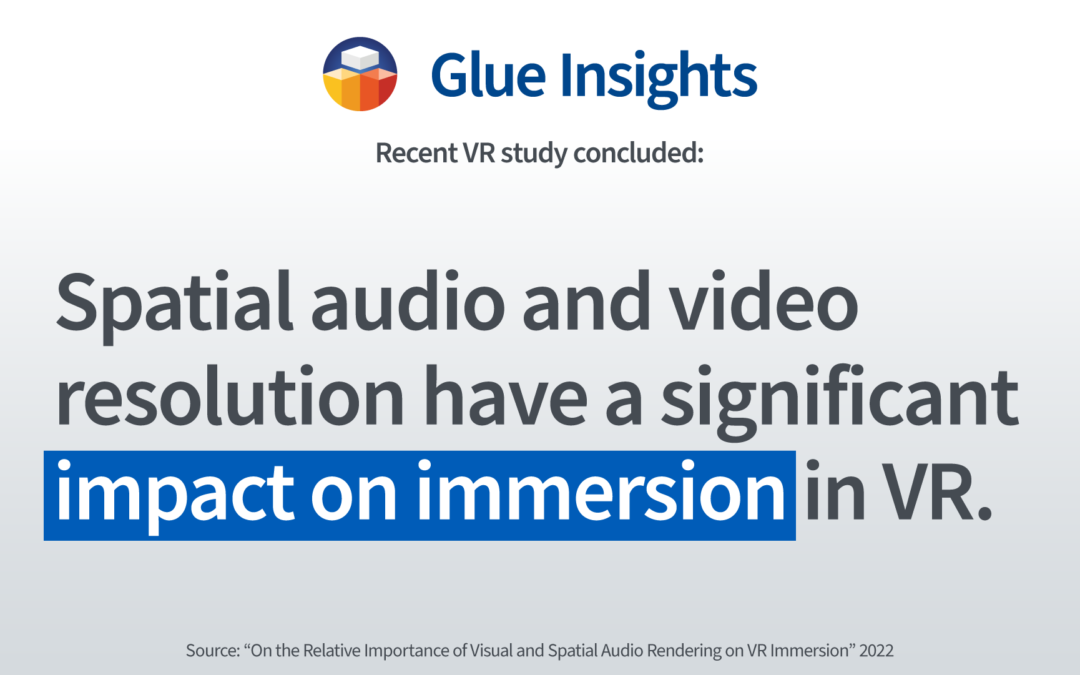 "Both video resolution and spatial audio rendering had a statistically significant effect on both immersion and audio-visual quality." concluded recent research on visual and audio importance in VR. When choosing a VR collaboration platform, it's crucial to consider...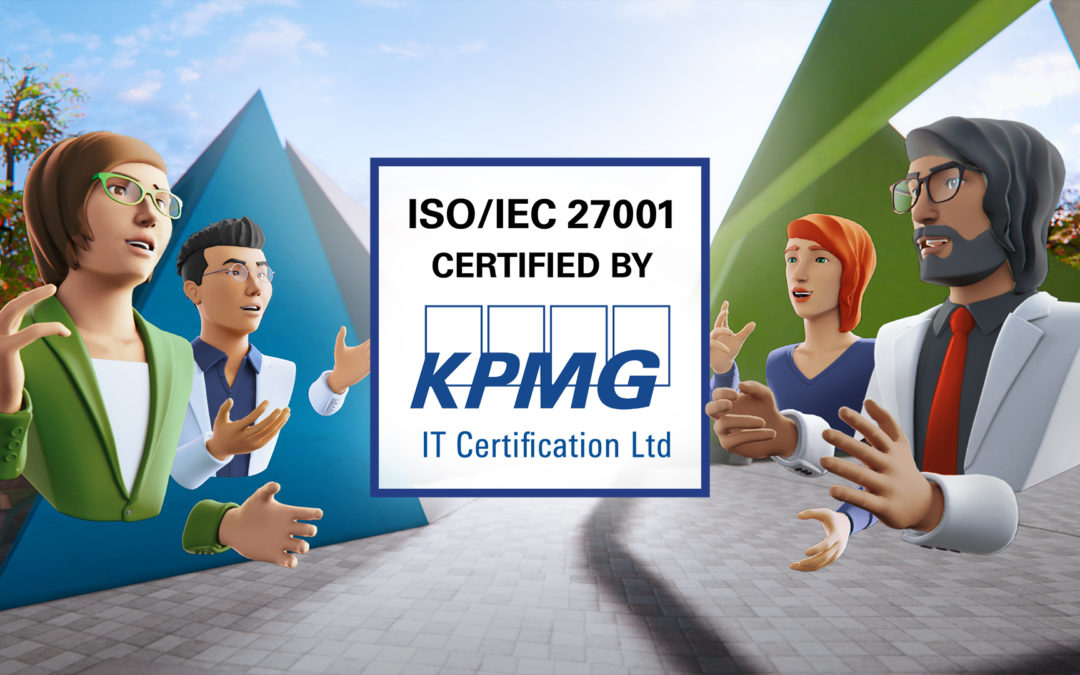 Glue Collaboration announced today that it has received ISO/IEC 27001 certificate for its information security management. The certification is awarded to companies that demonstrate a high level of commitment to protecting their information assets and implementing...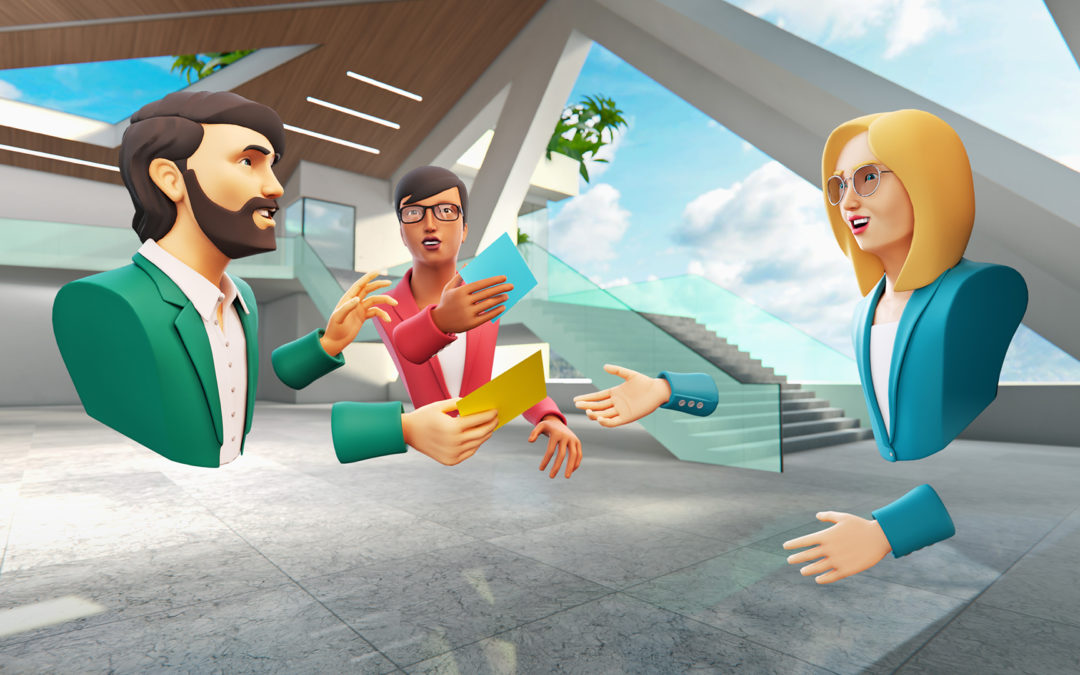 At this year's Mobile World Congress, Qualcomm CEO Cristiano Amon championed virtual reality and artificial intelligence as the future of business. While not the first to do so, his excitement reflects how we're living in a time of rapid technological advancement:...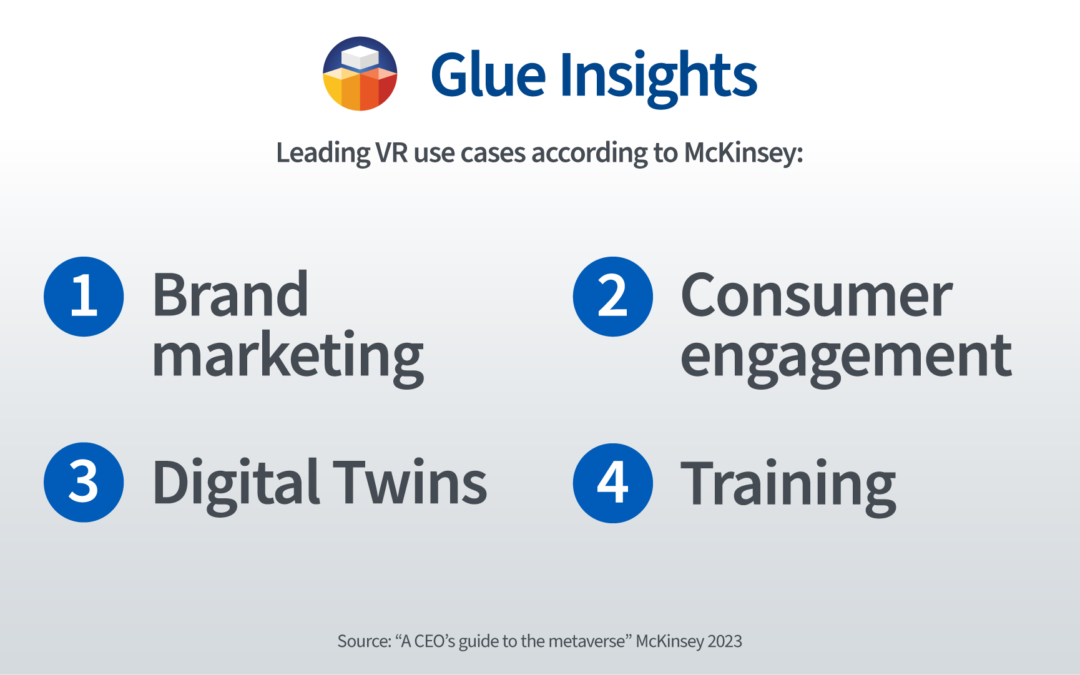 McKinsey & Company identified the leading VR use cases in "A CEO's guide to the metaverse". Let's have a closer look at them. 1. Brand marketing VR helps to strengthen a company's brand by creating a unique virtual experience. It can be a virtual product launch,...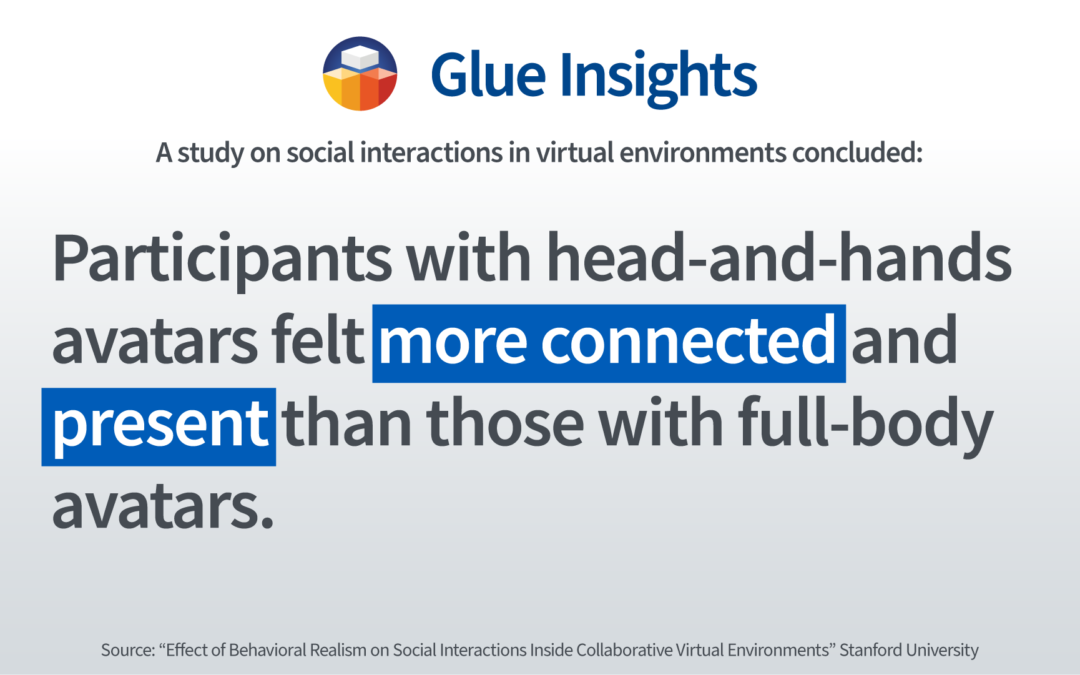 Stanford research on social interactions inside collaborative virtual environments concluded that participants with head-and-hands avatars felt more connected and present than those with full-body avatars. Here is why: 👇 1️⃣ When using a full-body avatar, a user is...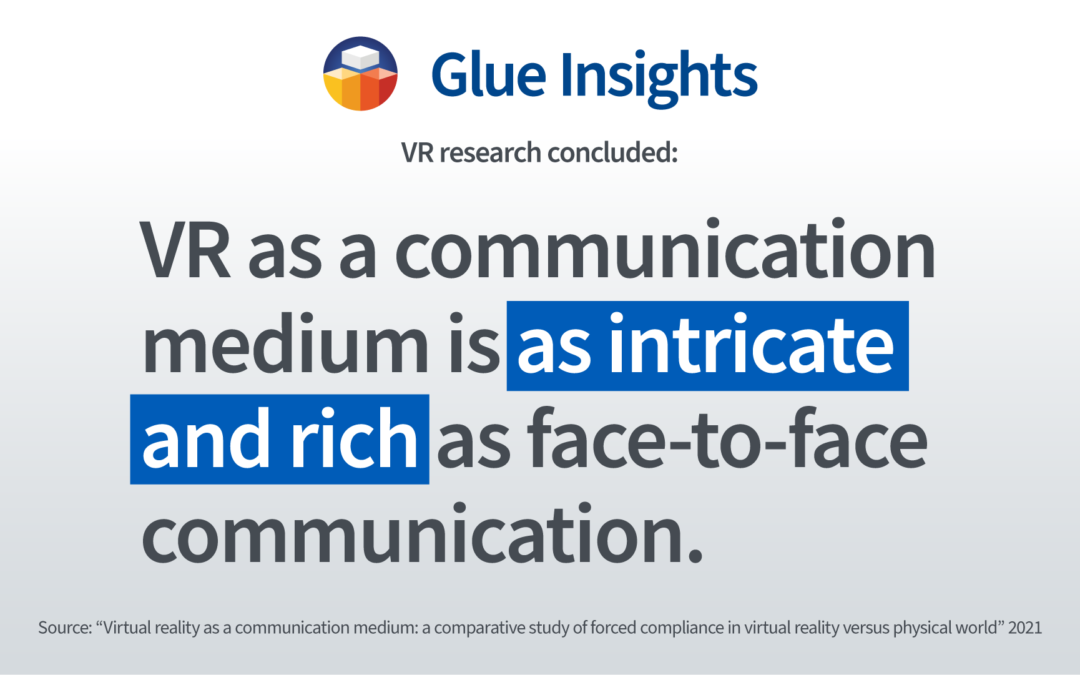 Virtual reality can facilitate communication that is just as intricate and rich as face-to-face interactions. That's the finding of the research study on VR as a communication medium. The study found that VR-mediated communication can be as complex and nuanced as...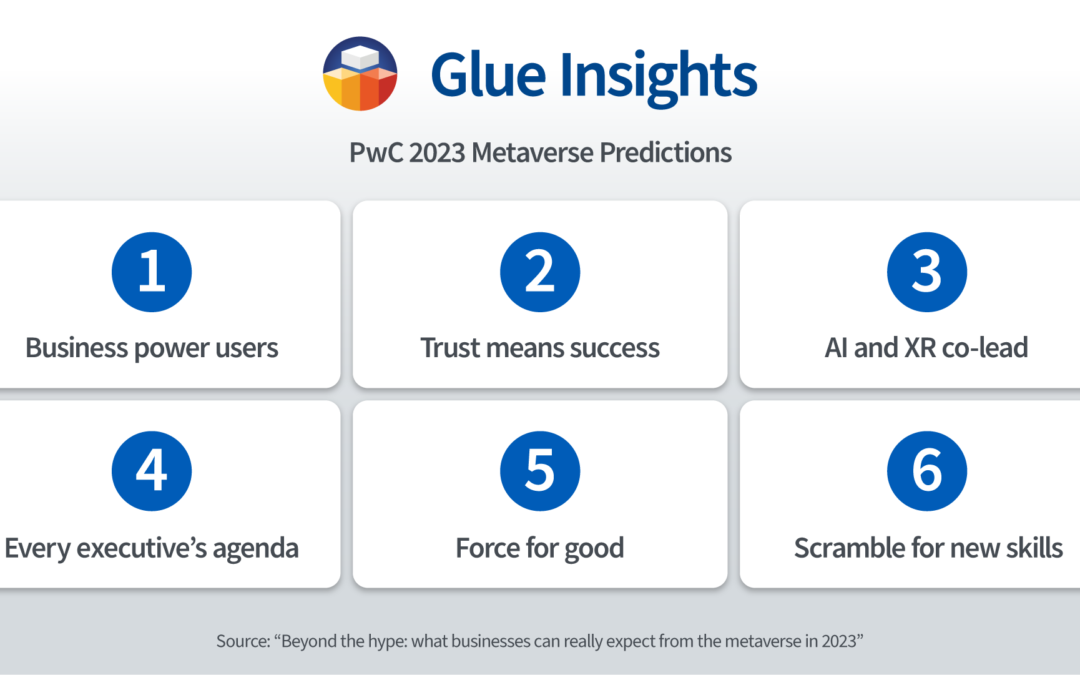 PwC identified six metaverse predictions that businesses can expect to take force in 2023. These are the four most fundamental ones: 1. Businesses will be the metaverse power users 💪 Business applications take the lead with practical use cases such as onboarding,...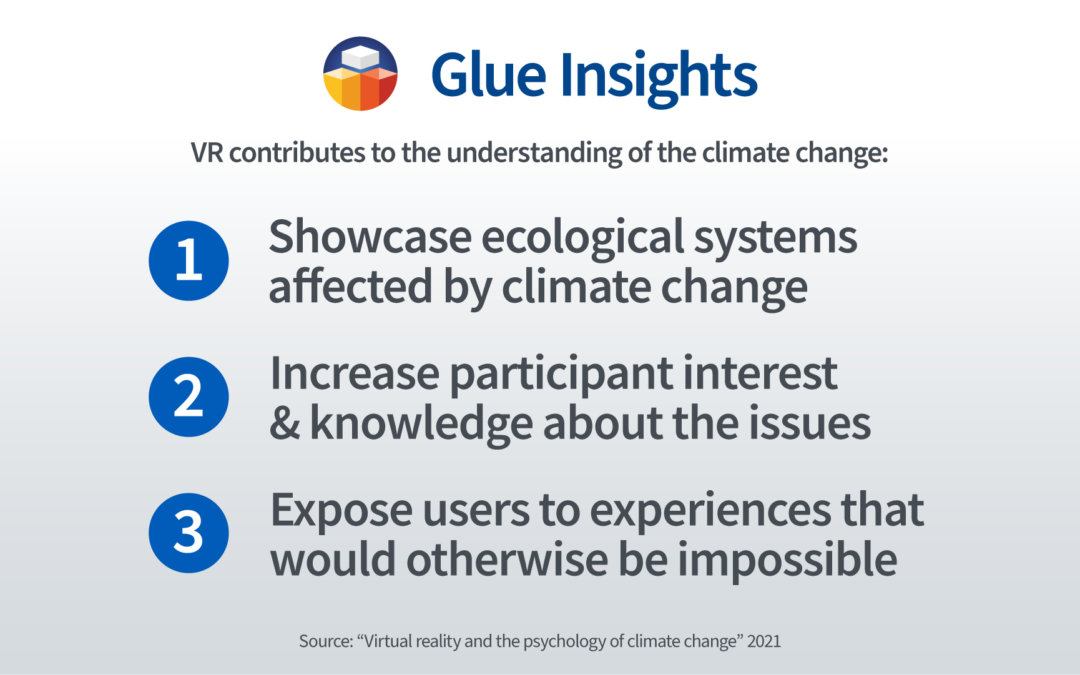 "VR experiences can make important contributions toward understanding psychological aspects of climate science." David M. Markowitz and Jeremy N. Bailenson reviewed the connection between VR and climate change and identified how the technology can be a useful tool to...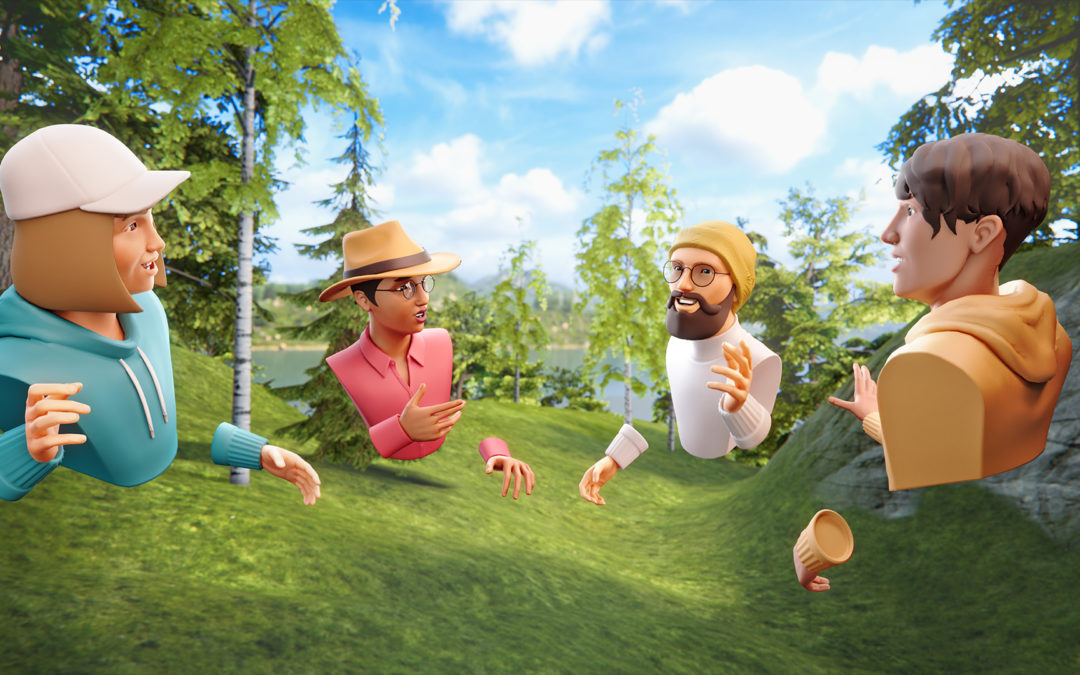 Different kinds of virtual spaces impact work productivity, creativity, and well-being in different ways, much like real-world environments do. In one of the largest studies of its kind, Stanford VR researchers have just shown how the size and location of virtual...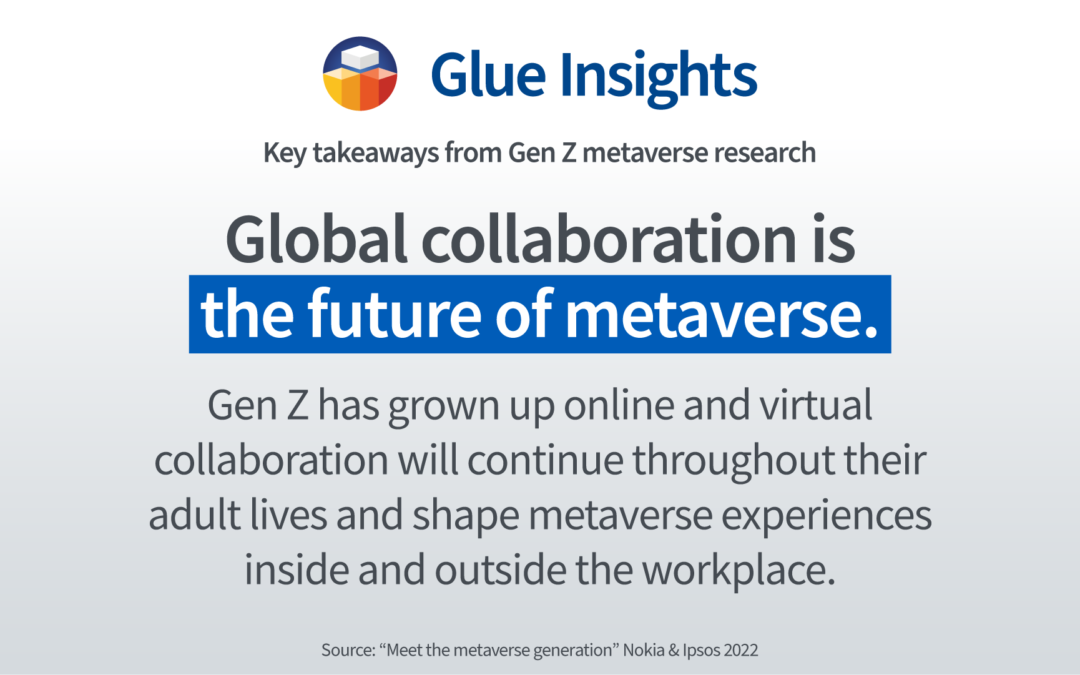 "Global collaboration is the future of the metaverse." This is one of the key takeaways from "Gen Z and the Metaverse" report published by Nokia & Ipsos. As Gen Z has grown up online, they're accustomed to working online and have a strong interest towards bringing...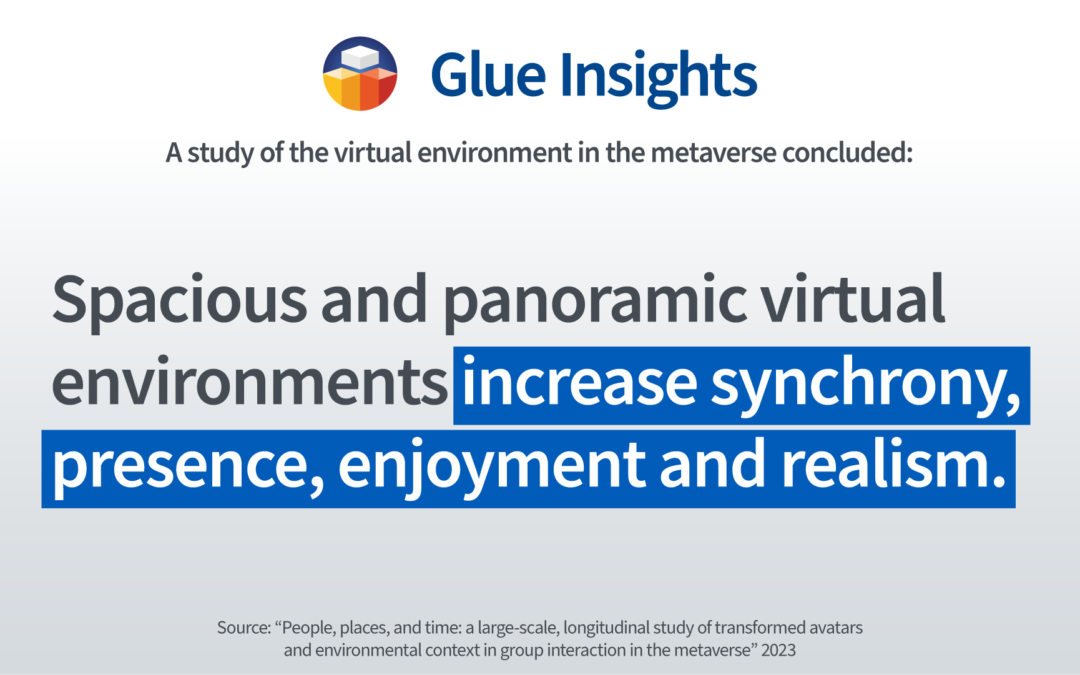 Virtual space matters. A large-scale, longitudinal study on avatars and virtual environments found that spacious, panoramic spaces increase synchrony, presence, enjoyment, and realism.  Panoramic, spacious virtual environments provide a feeling of freedom, and...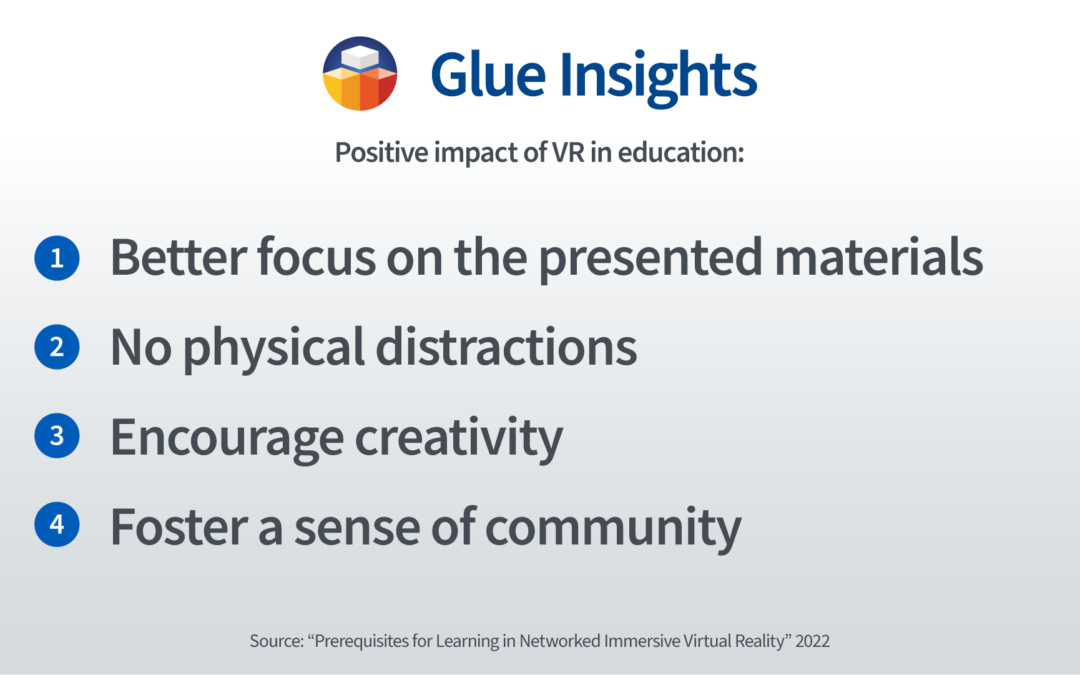 A recent study conducted an experiment where students worked on different tasks in VR for 4 weeks. Participants of the study noted several factors in how VR positively influenced their learning process: 1. Better focus on the presented materials2. No physical...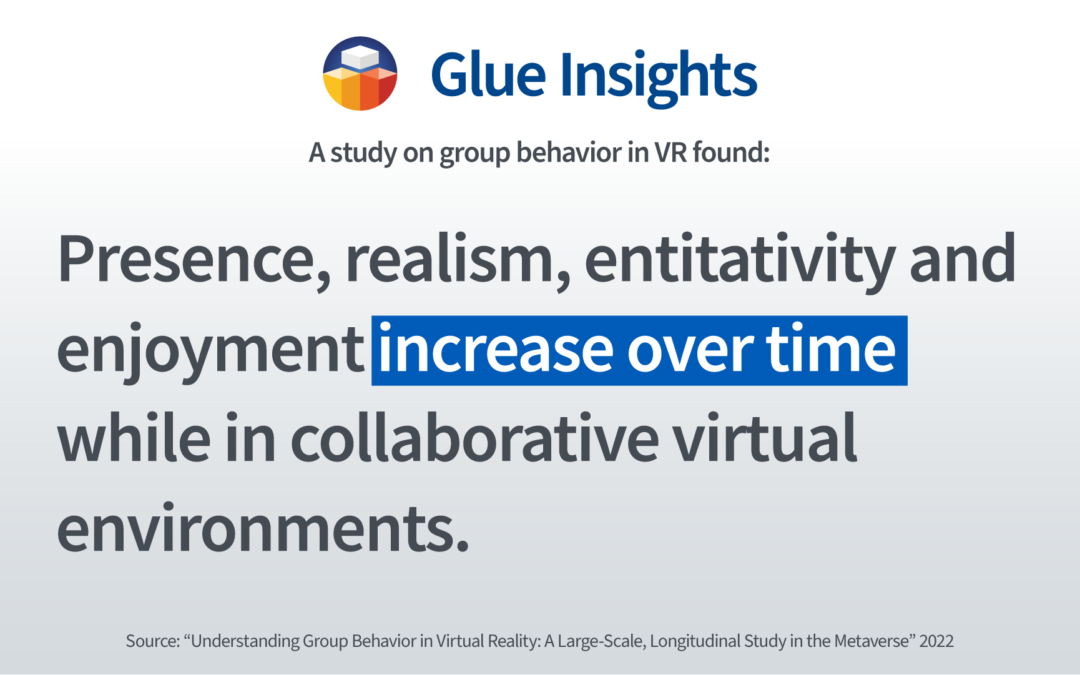 In today's Glue Insights, we're talking about how the use of VR over time influences group behavior. "Understanding Group Behavior in Virtual Reality: A Large-Scale, Longitudinal Study in the Metaverse" study uncovers interesting insights into how large groups...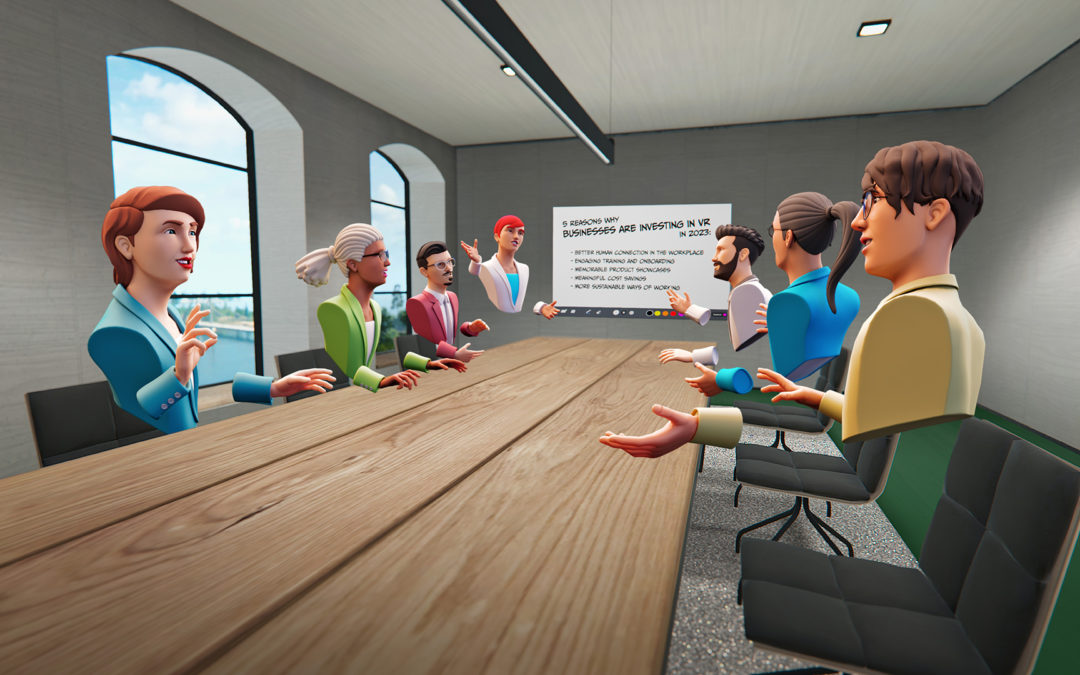 With remote work seemingly a permanent fixture in the business world, companies are exploring new ways to maintain team unity and productivity. Our solution to this, of course, is the use of Virtual Reality (VR) collaboration technology to allow employees to join...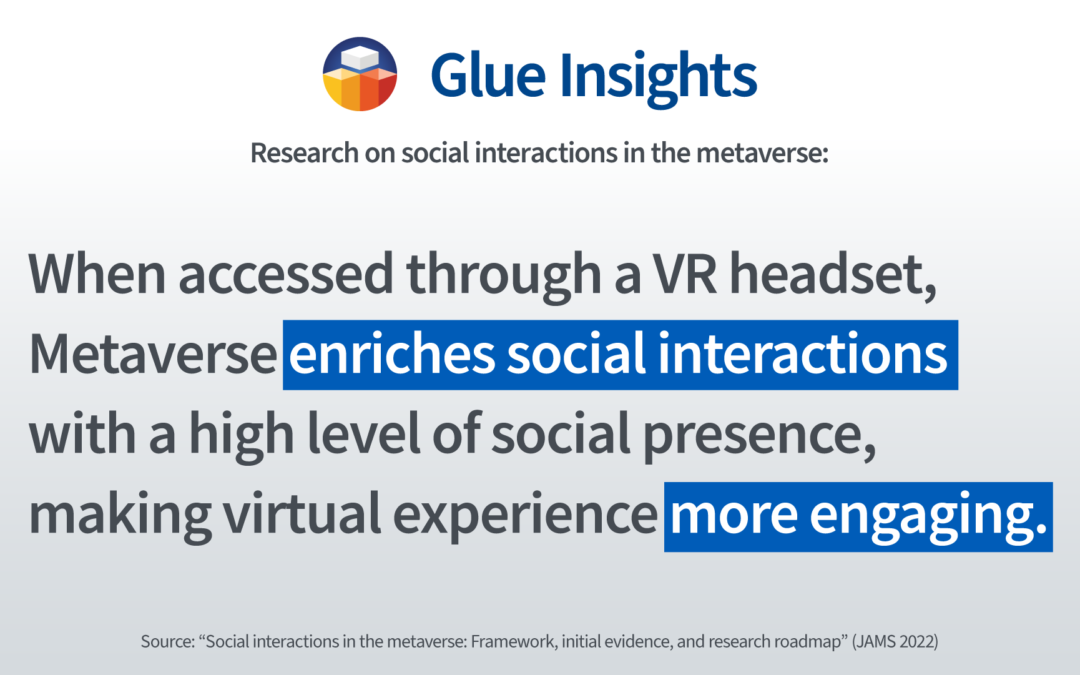 The concept of social presence and how it affects social interactions during virtual meetings hasn't been extensively researched. But, a recent paper on social interactions in the metaverse light upon the potential of the technology. The research investigated the...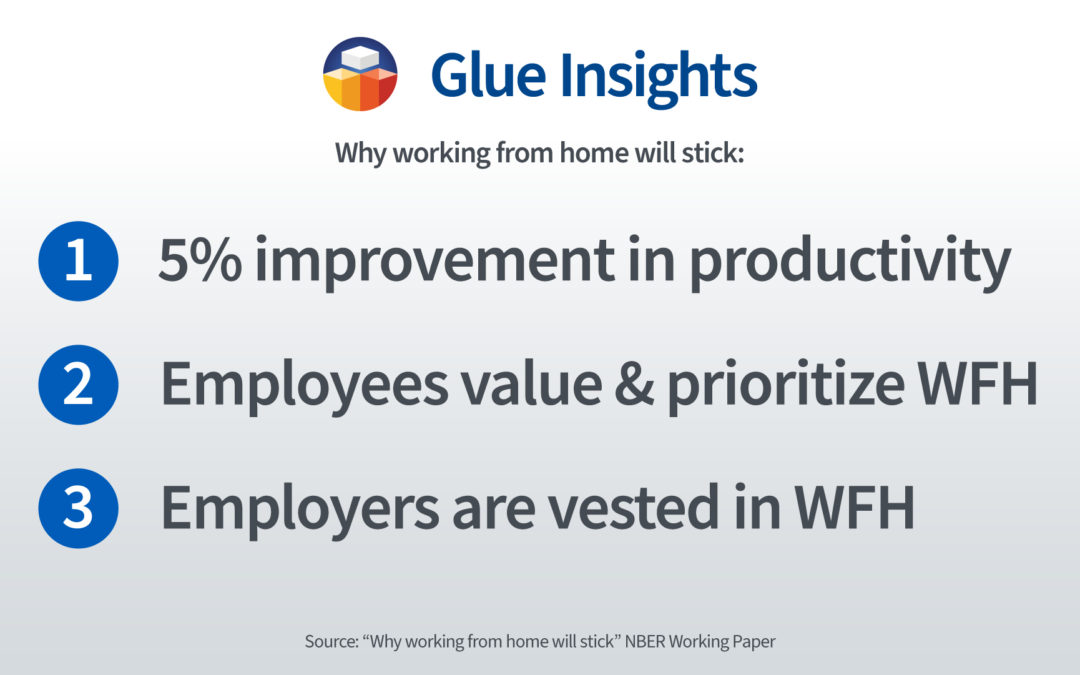 We've talked about the benefits and drawbacks of remote work or work-from-home (WFH). But, why should we expect that WFH will persist? A recent working paper by Barrero J.M., Bloom N. & Davis S.J. studied why working from home will stick and they base their...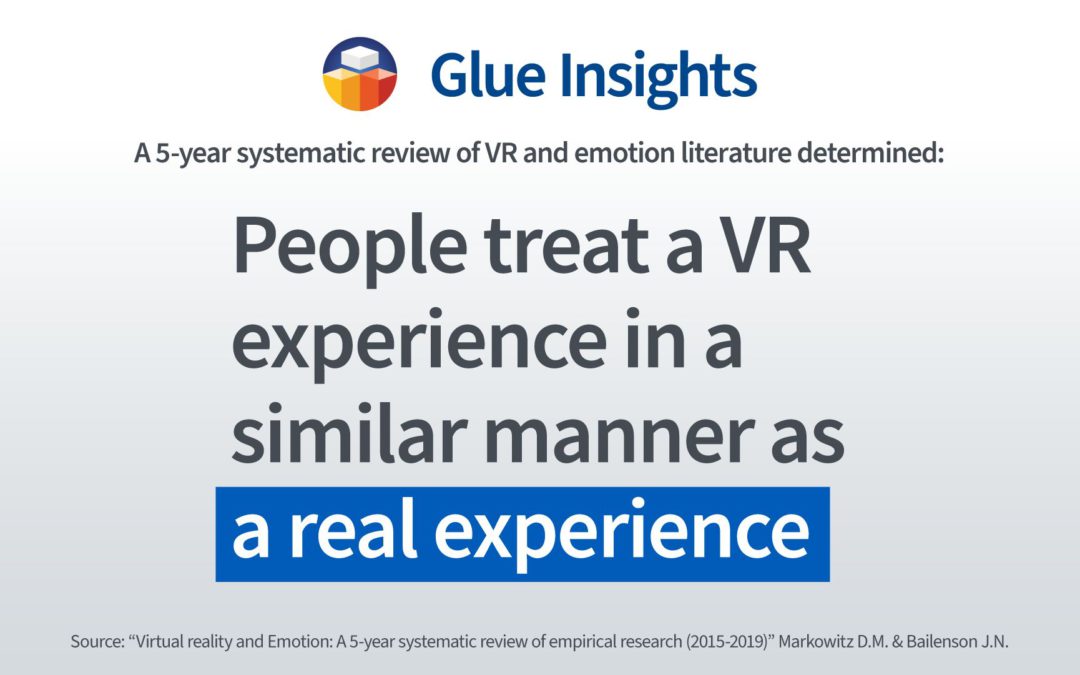 People treat VR experiences similarly as real experiences. That is one of the key conclusions from a 5-year systematic review of VR and emotion literature done by Markowitz, D. M., & Bailenson, J.N. They reviewed the state of immersive VR and emotion research...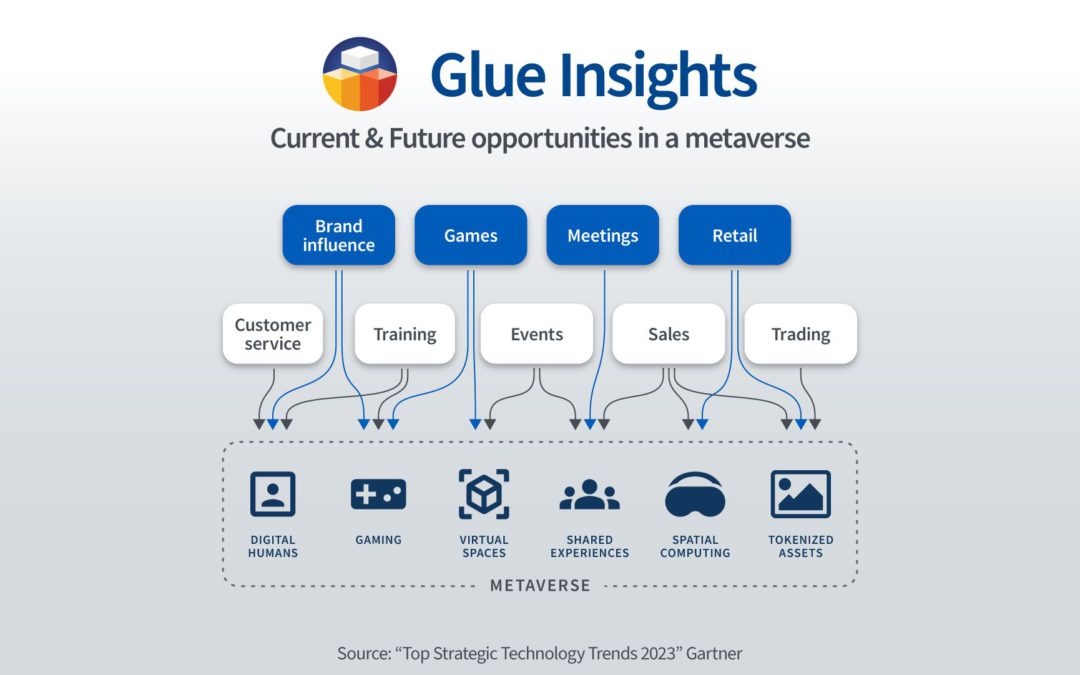 Starting 2023 with "Top Strategic Technology Trends 2023" from Gartner. The report identified 9 technology trends, each of which drives either (1) business optimization, (2) scaling of the business or (3) pioneering and reinventing business models. Metaverse is one of...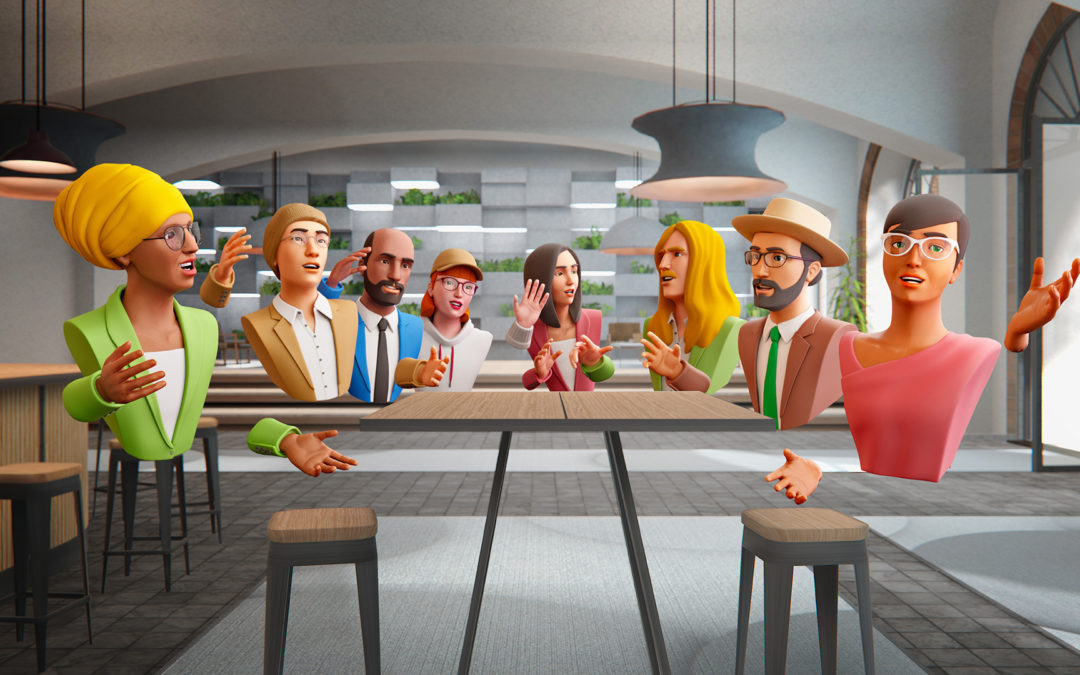 2022 will hardly be remembered as a vintage year for extended reality (XR) and immersive technologies. A slowing economy and tech industry belt-tightening dominated the headlines. And we were even told that crypto's woes could spell the end of the metaverse (narrator:...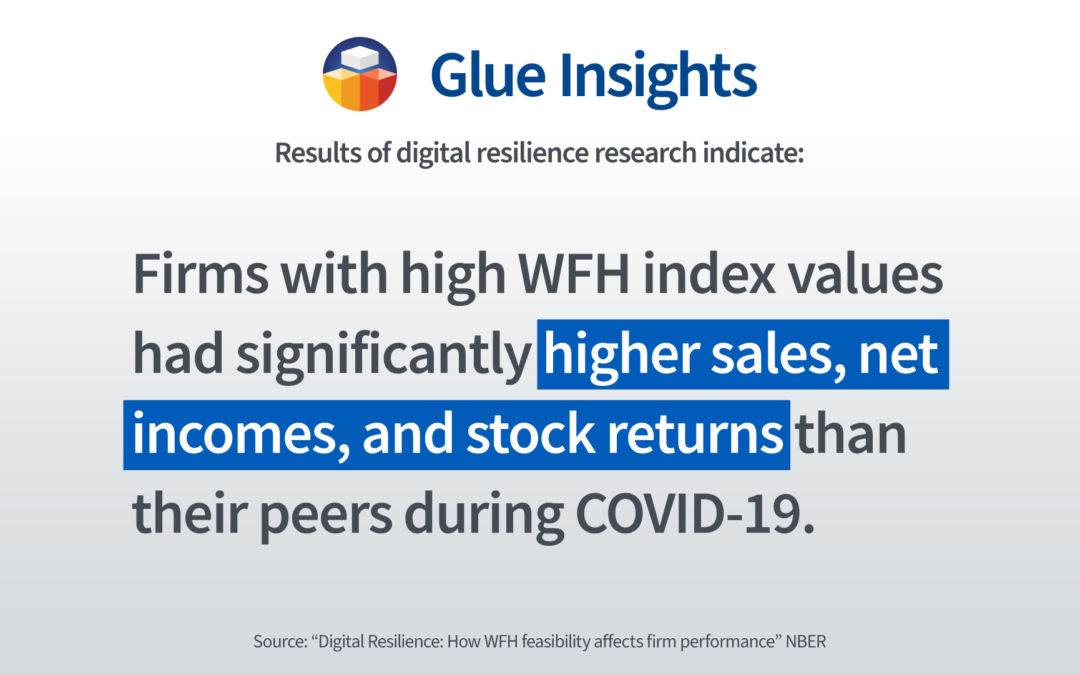 Today we highlight interesting results from the paper on the firm's digital resilience and work-from-home (WFH) performance. The key finding of the research is that firms with high pre-pandemic WFH feasibility had higher net incomes, sales, and better stock market...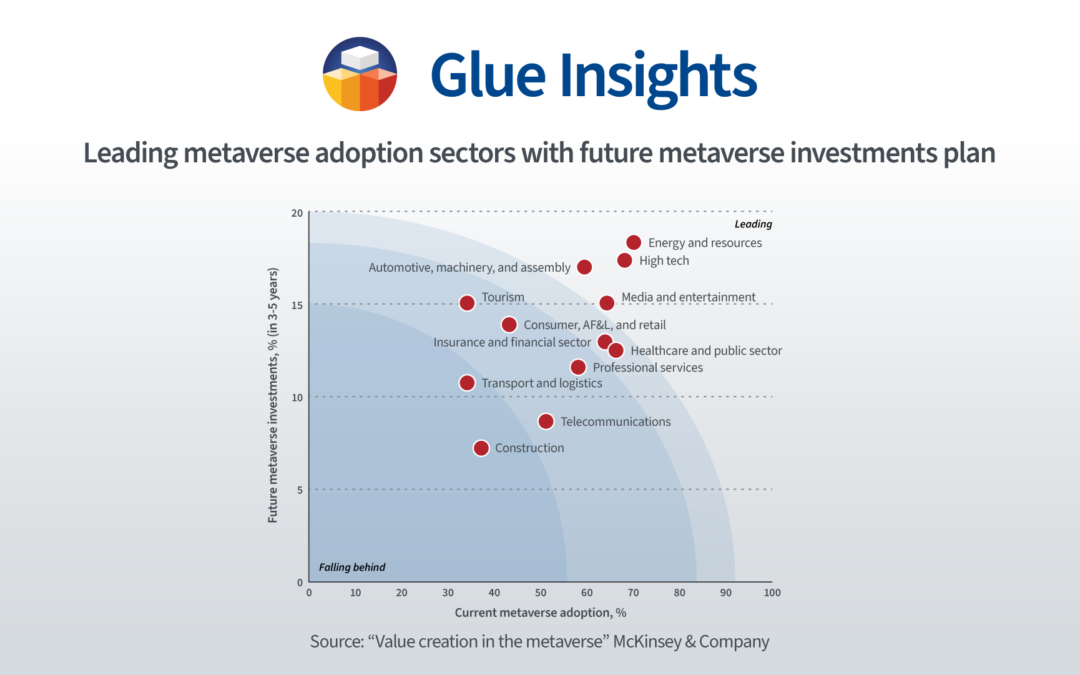 "Value creation in the metaverse" is an insightful report from McKinsey & Company talking about the emergence of the metaverse, the factors driving investment, how consumers and businesses are using it today and may in the future, its value-creation potential, and...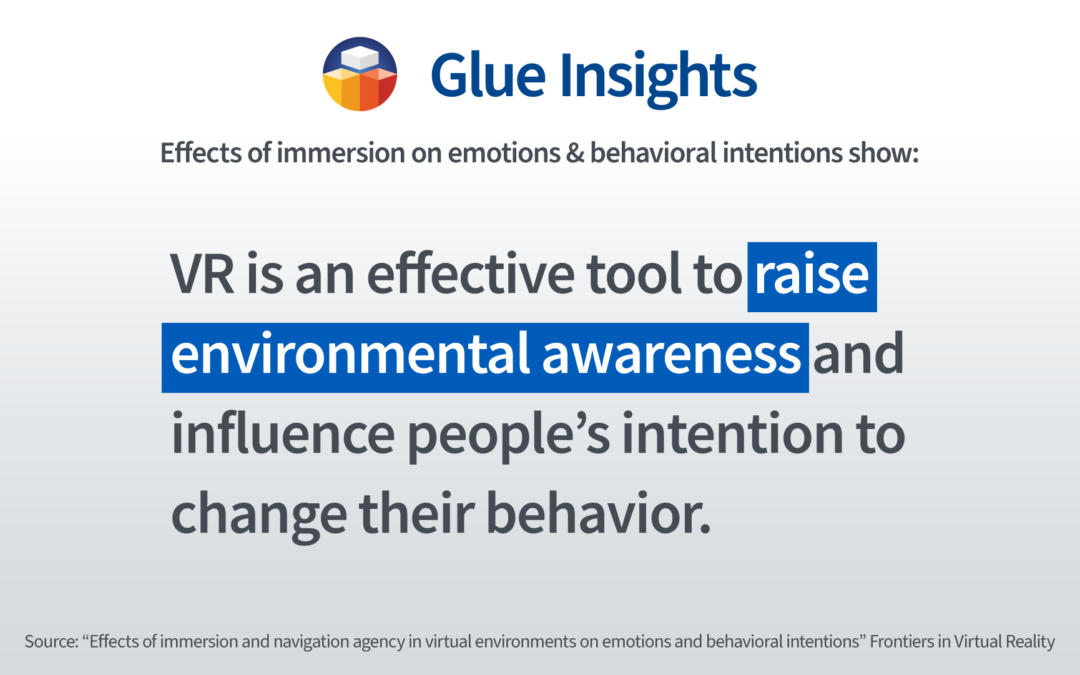 A recent study investigated the effects of different degrees of immersion and different levels of navigation freedom on emotions, the feeling of presence, and participants' intention to change their environmental behavior. The results are worth highlighting! The...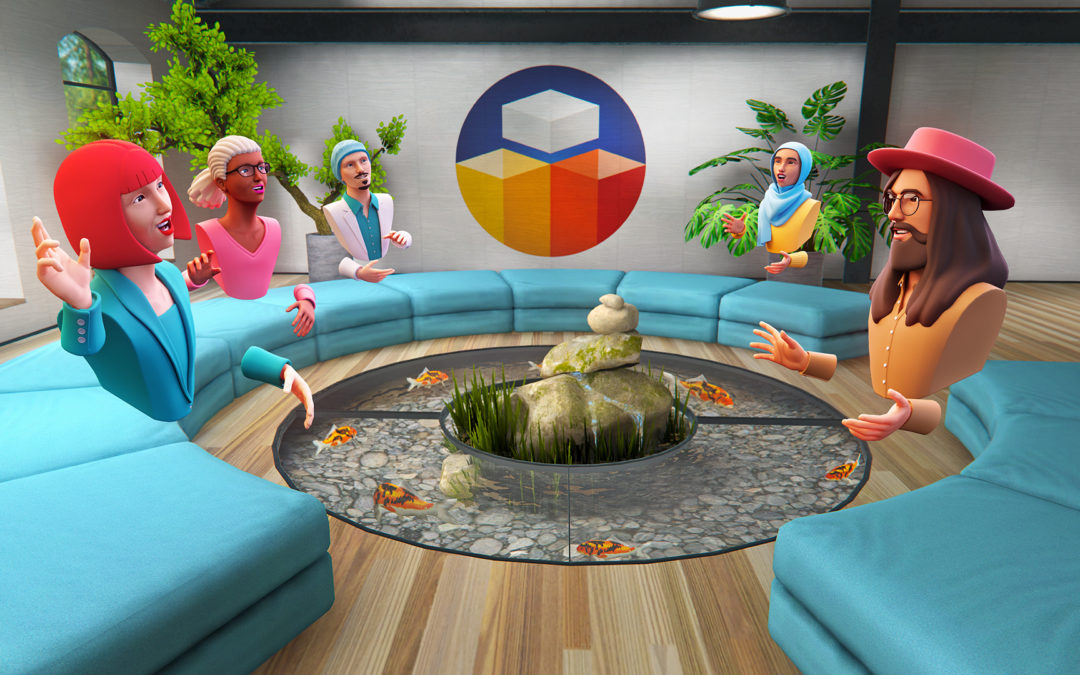 Every day technologists, developers and business executives peer into their crystal balls to predict how the metaverse will take shape. As a network of immersive 3D virtual worlds, the metaverse has the potential to transform the way we socialize, game and shop, as...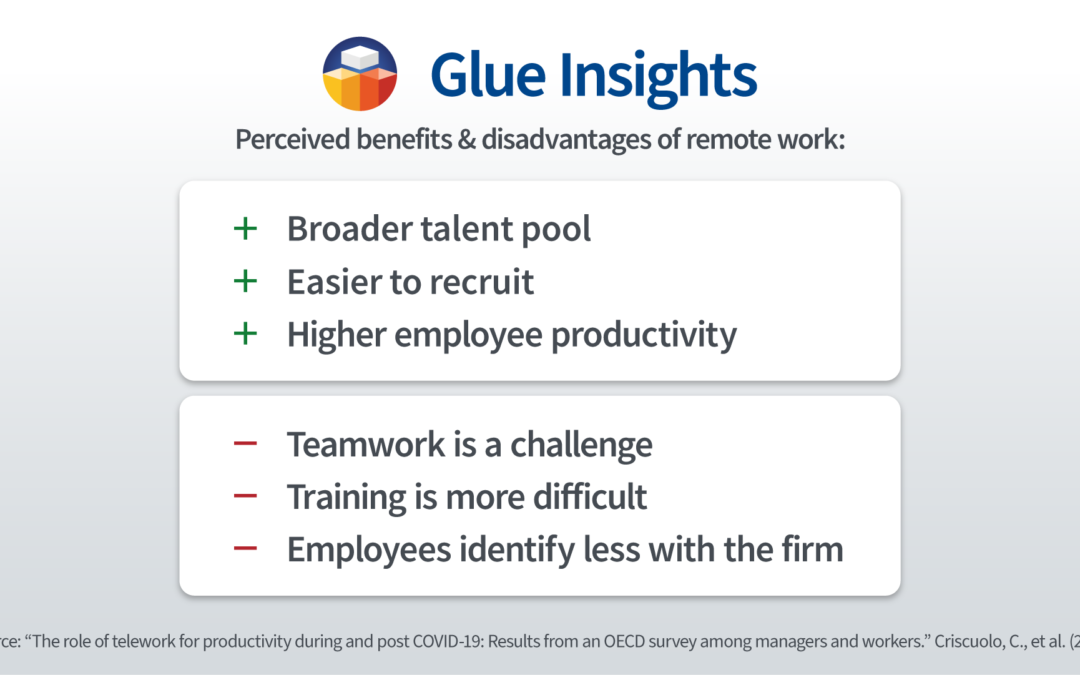 Global Forum on Productivity (GFP) analyzed how remote work influences productivity and well-being among managers and workers in 25 countries during COVID-19. As our insight today, we have highlighted the main benefits and disadvantages of remote work according to the...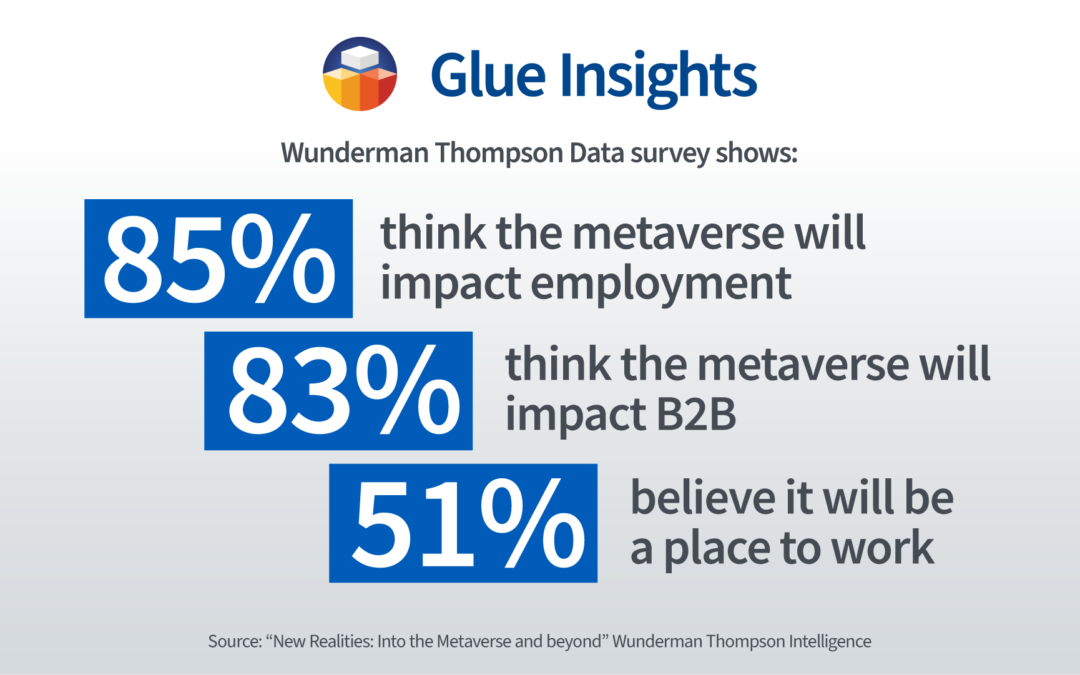 "New realities into the Metaverse and beyond" a report by Wunderman Thompson talks about the impact of the metaverse across industries, including the workplace and how the way people work changes. According to the survey included in the report, 85% of participants...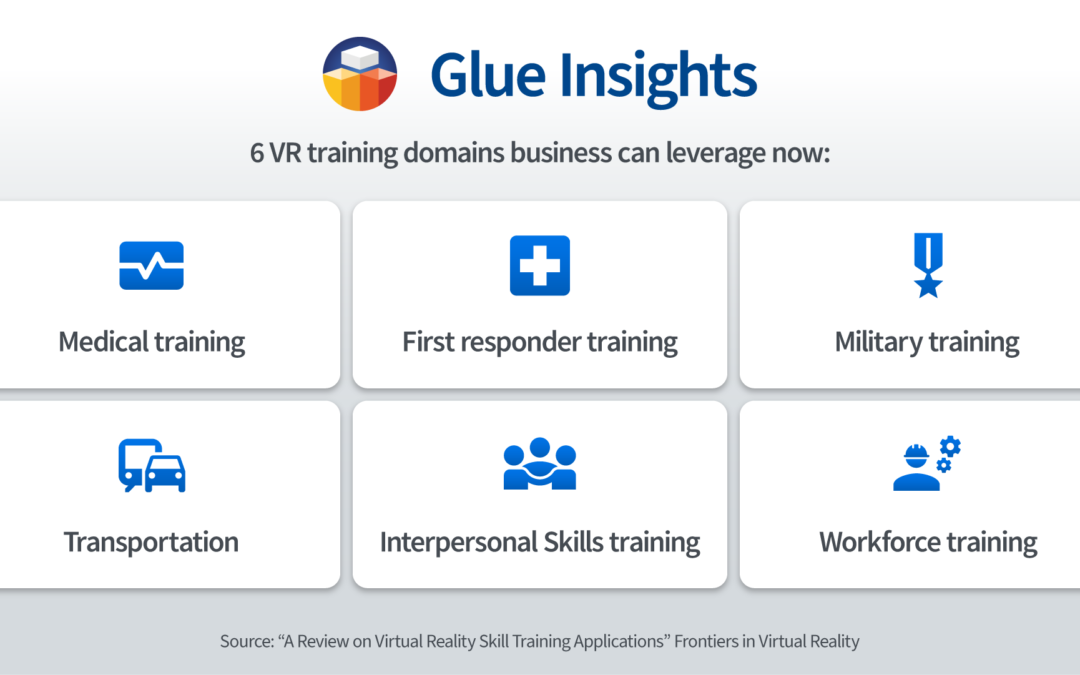 "A Review on Virtual Reality Skill Training Applications" study examined 48 VR training applications to validate the VR training effectiveness. The study concluded that VR training is well suited for the following six training applications: 1. Workforce training For...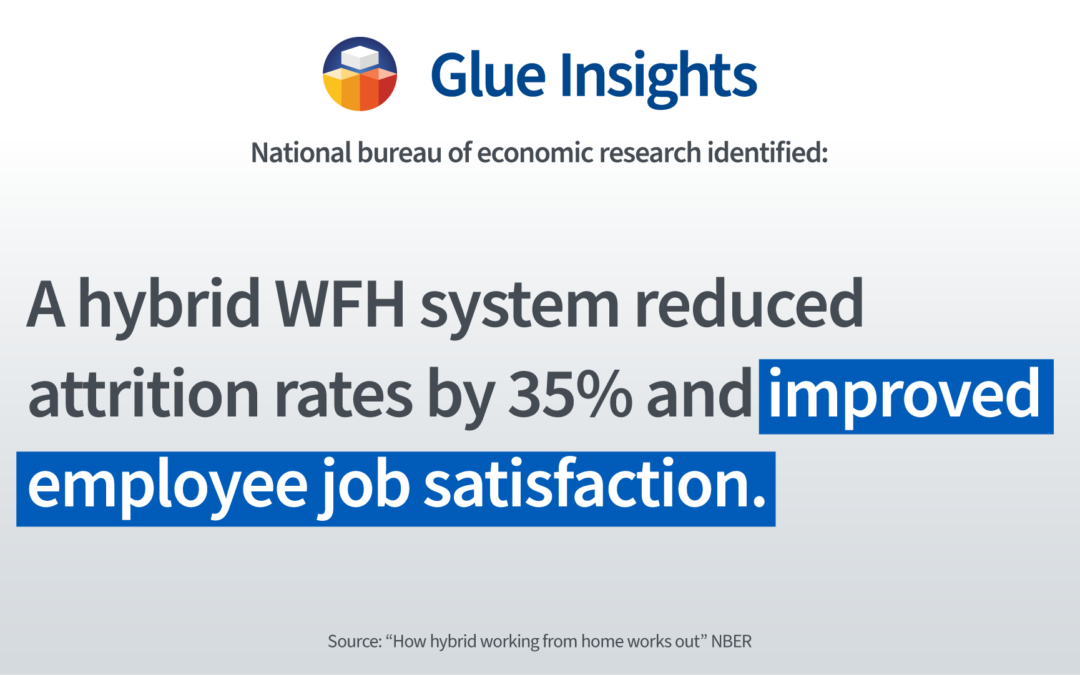 "How hybrid working from home works out" a remarkable working paper by Nick Bloom, Ruobing Han & James Liang identified the benefits of hybrid working from home in an experiment held together with Trip.com, a global travel agency. The experiment revealed 4 key...