In today's rapidly evolving digital landscape, the metaverse, artificial intelligence (AI), and virtual reality technologies are gaining significant attention. These technologies offer numerous opportunities for businesses, from creating immersive virtual experiences and improving collaboration in remote teams to unlocking entirely new business paths.
To implement and scale these technologies into daily operations they need to make good business sense. In our last month's blog, we discussed how VR delivers improved productivity to remote meetings versus video conferences via improved engagement, presence and collaboration.
Now we continue from where we left off and demonstrate businesses need to see concrete positive impact and return on investment (ROI) associated with the implementation of such collaboration tools.
In this blog, we crunch the numbers to show how organizations can drive positive impact and return on investment (ROI) with the implementation of virtual reality collaboration tools.
With a concrete business case example we calculate the ROI of VR meetings for a 10 people team who replaces half of their quarterly face-to-face team meetings with VR meetings.
How much does a VR project cost?
To calculate the cost of virtual reality meetings, we need to consider both the cost of VR headsets and the collaboration software.
In our business case example, we calculate costs for a team of 10 people that switched from physical quarterly team meetings to VR meetings.
VR Headsets Cost:
When it comes to headsets, you have several options to choose from based on your needs. One of the most popular headsets for business on the market right now include Pico Neo 4E ($950), Lenovo Think Reality VRX ($1,299) and soon-to-be-released Meta Quest 3 ($499+Quest for Business license).
For our calculations, we will use the round number of $1,000 per headset as the reference price, which represents the average price of the headset. We consider the economic life of the headset to be 2 years, which is also the timeline for our ROI calculation for this business case.
Collaboration software costs:
To make your meeting as productive as possible, you'd like to go for proper collaboration software, which provides you with all the collaboration tools you need.
In this business case, we will obviously use our own VR collaboration platform for price reference with the price of $60 per user per month cost for an enterprise license.
For a 10 person team, this amounts to $14,400 for the 2-year period.
Thus, the total cost of VR implementation for a 10 person team is $24,400 over two years. Investment is only $1,220 per person per year, a very moderate investment altogether.
Cut costs with virtual reality
When calculating the savings part of the equation, we need to take into account how much money a company spends on face-to-face meetings.
Of course, this is going to be a bit different for every company, but in our case, we take a reasonable assumption that half of the team needs to travel intercontinentally for each face-to-face meeting.
Direct Travel Costs:
For our ROI calculation purposes, we only include the direct travel costs: flights and accommodation for a team of 5 people assuming that another 5 people are located at the destination.
These costs are not fixed and vary based on the season, location and other factors. To cope with that, we make reasonable assumptions on the prices for our calculations.
The estimated average price of a flight from Europe to the USA is priced at around $1,000 for economy class and $3,000 for business class.
In our business case, 5 individuals are taking an intercontinental trip — four in economy class and one in business class.
As a result, the total travel expenses for one business trip amount to $7,000, and $28,000 for four quarterly meetings during a 2 year period as we still let the team meet each other face-to-face twice a year.
Considering a typical accommodation cost of $200 per person per night and the necessity for at least a 2-night stay. The total accommodation expense will amount to $ 2,000 for one business trip and $8,000 for four trips during the 2 years.
Thus, the total direct costs for traveling over the 2 years period is $36,000.
ROI Calculation:

Now, we have all the needed parts for our ROI calculations. 
Here is how you calculate the ROI of VR: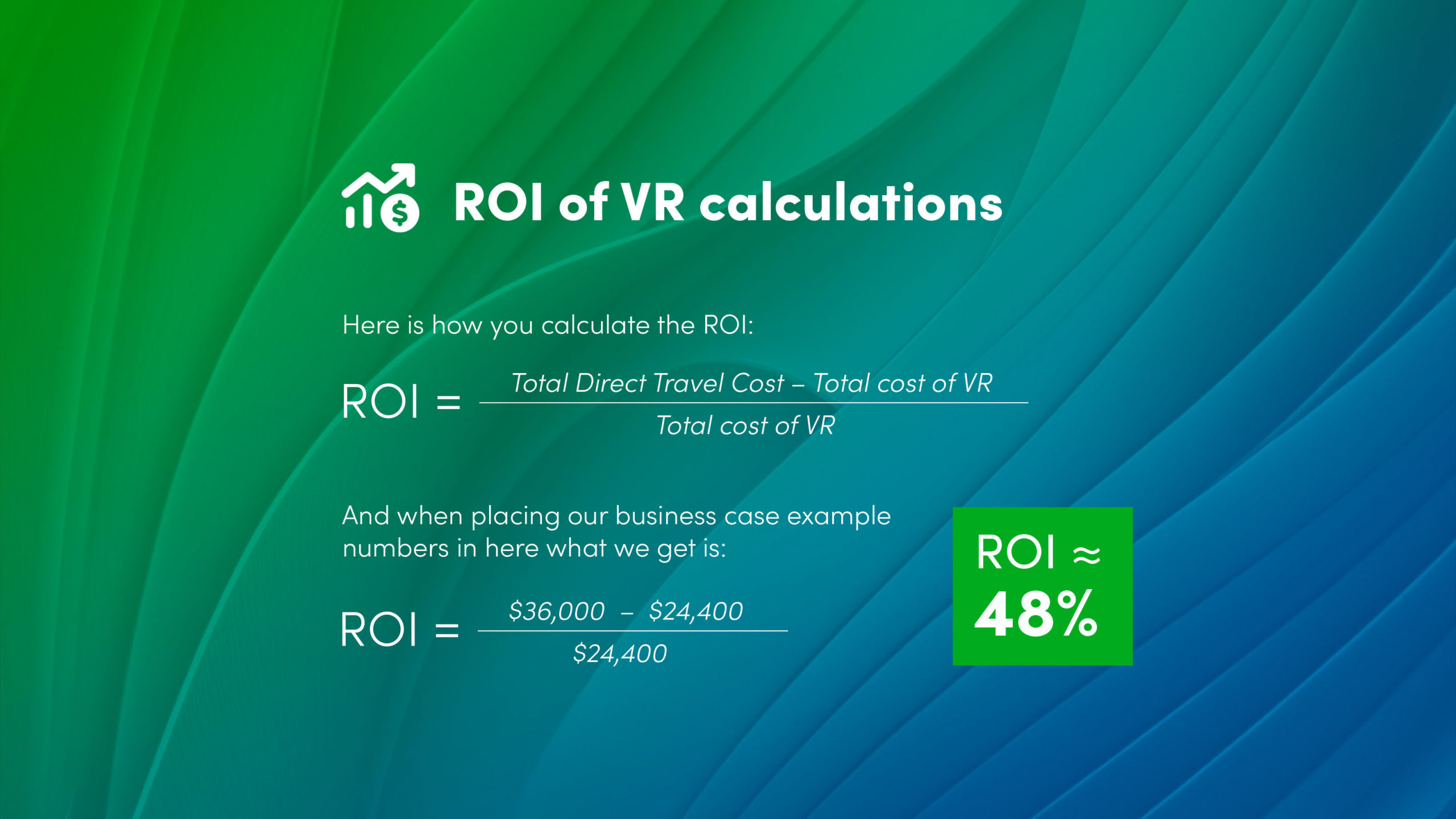 So basically, for our business case example,  a 10 person team will receive an ROI of around 50% over 2 years simply by replacing half of their quarterly face-to-face team meetings with VR meetings. 
In general, as our case example does not apply to all teams out there, any team can achieve positive ROI for VR by reducing their travel budget by over $1,220 per person per year.
This makes the business case for VR meetings work even with very small adjustments to the travel budgets.
Conclusion

In our simplified calculations, we wanted to show how little companies need to invest to have a viable business case for VR meetings.
And we were really generous with our calculations. We left out e.g. travel allowances, the cost of team activities, monetary value of time savings on not needing to travel, productivity loss due to jet lag and extensive traveling etc. which make the ROI equation even more favorable.
Investing in VR opens the door to hosting not just 2 team meetings a year in VR, but an unlimited number of meetings, maximizing the impact of your VR investment. 
So, are you ready to shift your face-to-face team meetings to VR?
If so, now you are also equipped with the ROI calculation to justify your VR investment to your finance department.


Ready for the next step?
Book a demo with us to learn how you can
shift face-to-face meetings to VR