2022 will hardly be remembered as a vintage year for extended reality (XR) and immersive technologies. A slowing economy and tech industry belt-tightening dominated the headlines. And we were even told that crypto's woes could spell the end of the metaverse (narrator: they don't).
Perhaps the metaverse is a victim of its own hype. But beneath the surface gloom, we've found plenty of reasons to be optimistic about its future, especially in the world of work and business.
New research showed the need for XR in the workplace
For one, this was a year in which XR gained greater acceptance as a tool that can help remote teams stay connected and productive in the post-pandemic era. While people are embracing the benefits of hybrid working, new research showed that it's not all sunshine and sweatpants.
It turns out that our reliance on conventional 2D tools like video calling systems is detrimental to team cohesion and even making employees lonely. The realization is growing that we need a better mix of tools for virtual collaboration.
Could metaverse technologies provide a solution?
In many cases, they already are. We highlighted a few of the pragmatic use cases we're seeing in the workplace—from immersive learning and collaborative workshops—where people swap video meetings for a 3D virtual office and interactions feel like they're face-to-face.
Gartner championed value of virtual workspaces
We were certainly not alone in touting the merits of virtual workspaces. Gartner found that they "deliver the same cost and time savings as videoconferencing, with the added benefits of better engagement, collaboration and connection." The research firm even warned that incumbent video meeting platforms "risk being replaced" if they fail to offer these capabilities to their users.
Such are the benefits that "through 2027, fully virtual workspaces will account for 30% of the investment growth by enterprises in metaverse technologies and will 'reimagine' the office experience," Gartner enthused.
Energy, high-tech sectors pushed ahead with metaverse adoption
Some sectors are investing in the metaverse faster than others. Research from McKinsey showed that the energy and resources sector is leading the way in metaverse adoption, followed by the high-tech industry with players like Meta, Microsoft, and Apple. Assigning significant portions of their overall digital budget to metaverse investments, many businesses are forming teams and labs of metaverse specialists and appointing senior executives to run them.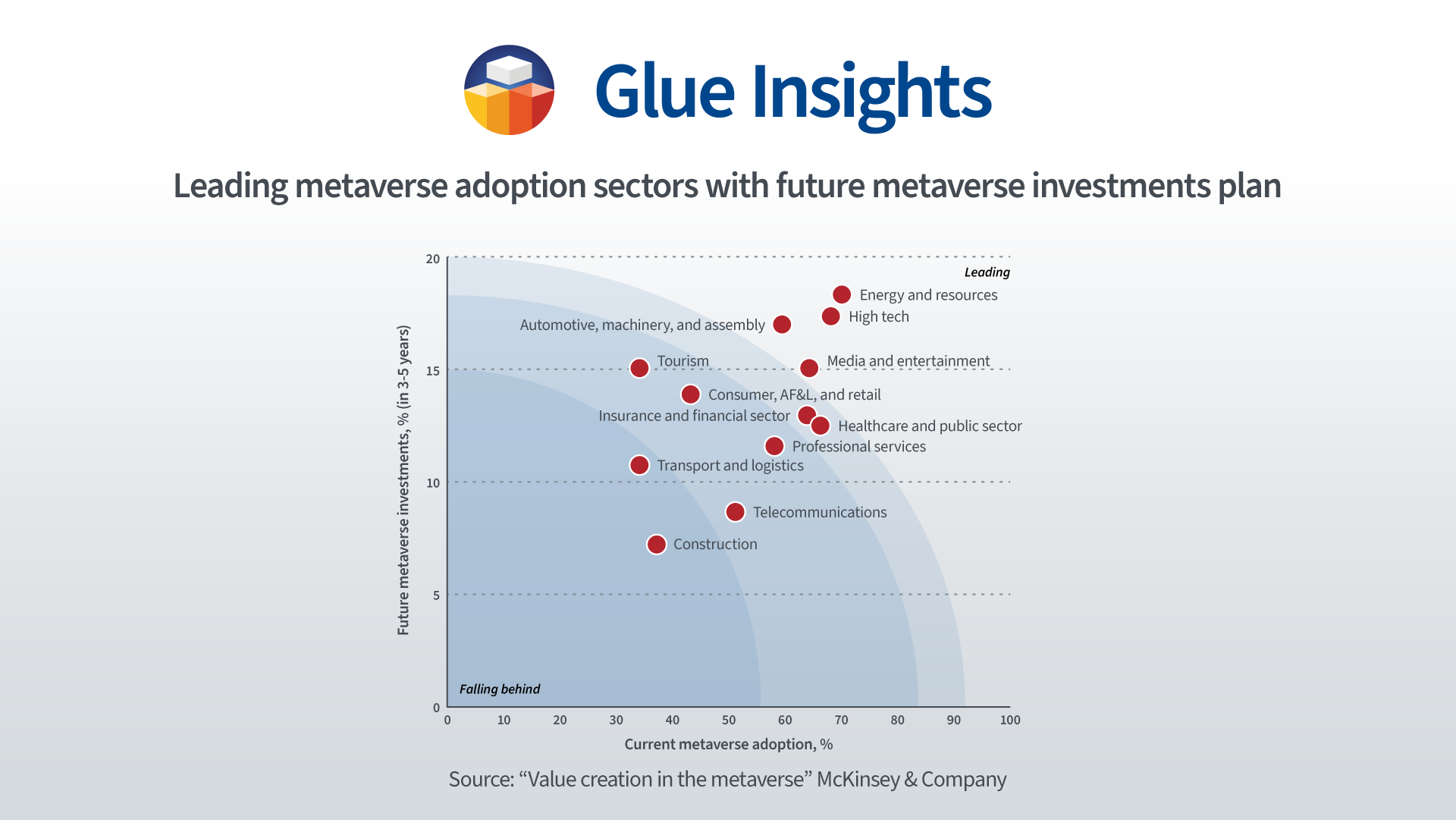 New headsets expanded the hardware options for businesses
Sales of virtual reality headsets didn't exactly set the world alight in 2022, but demonstrated a solid growth nevertheless. 2022 also saw the arrival of three new enterprise-focused VR headsets, expanding the range of hardware now available to businesses and further demonstrating that VR is not just for gaming and entertainment.
From Meta we got the Quest Pro, the first product in its new high-end line of devices and one geared to working and collaborating in virtual worlds. At AWE EU 2022 in Lisbon, Pico unveiled the PICO 4 Enterprise, a next-generation all-in-one VR headset. And Lenovo unveiled the ThinkReality VRX, which is well suited to immersive training, collaboration and 3D design.
The Quest Pro and PICO 4 Enterprise, which are both supported by Glue, offer excellent clarity and immersive qualities. As standalone sets they're also much more mobile than others in their class, making them great options for those who want to work from anywhere.
What's next?
Even as workers have started returning to the office for two or three days a week, they still took part in 60% more remote meetings in 2022 than they did in 2020, according to the Harvard Business Review.
Much is uncertain in our world today, but it does seem that remote work is here to stay, which drives a need for better remote working tools. It's against this backdrop that we're bullish about the prospects for enterprise metaverse technologies.
For Richard Windsor, analyst at Radio Free Mobile, it's the enterprise—rather than the consumer—side of the metaverse that could develop fastest next year. "[T]here are use cases that can deliver utility immediately, meaning that this is where the focus is likely to be," Windsor wrote on his website last week.
For our part, Glue will spend 2023 striving to make our users' virtual collaboration experiences all the better and more productive. Our focus will be on more tightly integrating virtual collaboration into users' workflows and enabling more customization options along the way.
We can't wait to see what the year will bring for our work and business focused corner of the metaverse. See you in 2023!
If you'd like to learn more about the XR industry, virtual collaboration and how you can use it in your work, check out our Glue In Action videos for practical use cases and our Glue Insights series for more information about the applications.
Ready to start 2023 with better virtual collaboration?
Book a demo to learn how you can integrate VR 
in your business operations.